When it comes to statement pieces in a home, bigger truly is better. Whether you're looking to accessorize your outdoor or indoor spaces, Second Use has you covered. Check out some of our favorite larger-than-life pieces in stock and ON SALE right now!
What's better than a patio you can lounge on all day enjoying the rest of summer? Turns out it's giant stone sculptures that look like they came all the way from your favorite fantasy novel. These guys are hanging out in our yard on pallets and look incredible once assembled. These masterpieces were dreamed-up and expertly manufactured by a local architectural design firm. The pieces have only been uncrated twice– used in physical demonstrations showcasing the full potential of landscaped stone. There may be minor damage to individual components, but on the whole these pieces have seen next to no use.
Item #626091:
$2,250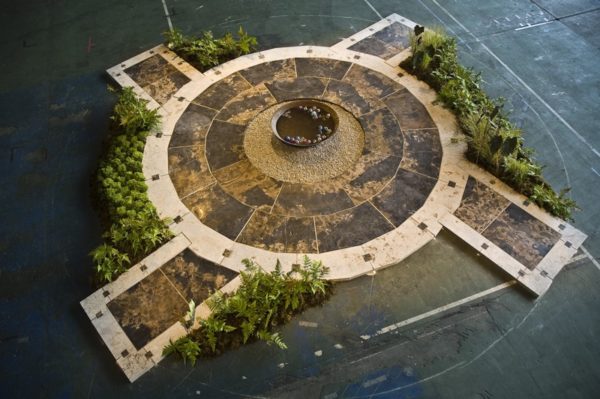 This landscape paver sculpture is grand in its scope and symmetry. Intricate pieces of "Rusty Manchu Caviar" limestone compose the entirety of this swirling construct.  Measuring from its furthest points–once assembled–the pavers cover approx. 625-SF; its longest length is 25′–massive! Sold with assembly diagrams; the whole sculpture is composed of 120-pcs.
Item #626093: $3,600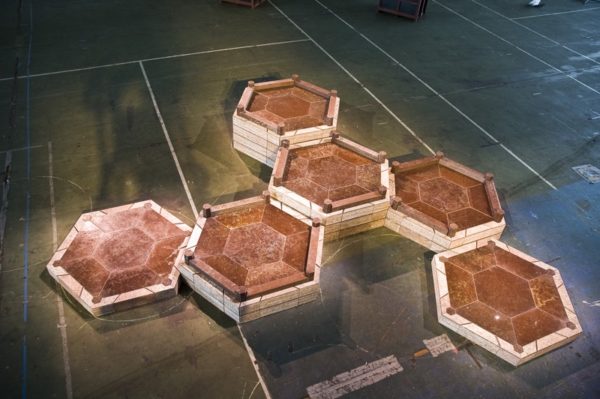 Intricate pieces of Redheart & gray Pearl limestone compose this multi-teired ode to the hexagon. Measuring from its furthest points–once assembled–the pavers cover approx. 500-SF; its longest length is ~20-lf! Sold with assembly diagrams–which you'll need, as there are 455 pieces packed onto 14 pallets!
If you're more interested in decorating the interior of your space with grandeur, look no further than these plaster beauties:
Item #610933: $1,050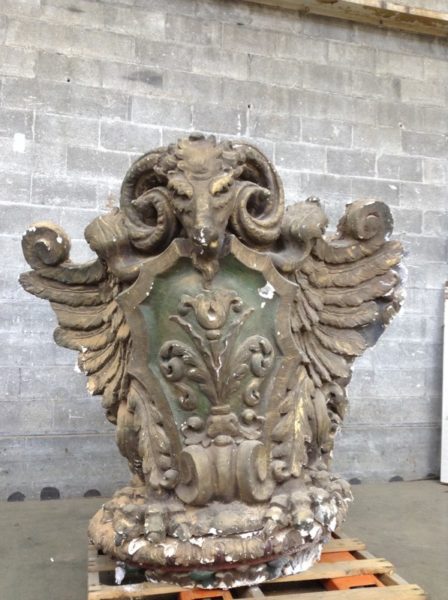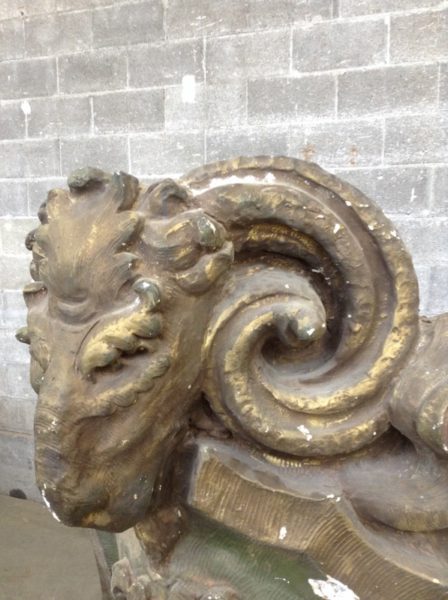 This piece and ones like it were originally perched in the ceiling of the Fox theater – known to some as the Roxy, the 7th Avenue, the Emerald Palace, and Music Hall. This plaster beast is an amalgamation of ram's head, eagle's body, mythological notions, and gravitas. The space in which it was a silent watcher opened as a movie theater in April of 1929. The space's physical history ends in January of 1992 when it was demolished after efforts to preserve this masterpiece of architecture. Between opening and demolition, the building was used as a movie theater, as a dinner theater, and as a space for public gatherings. Be sure to come down to look at it in person to get a feel for the size and presence of this plaster masterpiece. Own a piece of history! Check out a more detailed look at the pieces we've got and the history of the space here.
Something special catch your eye? Give us a call to put items on a 24 hour hold any day of the week, 9am to 6pm!
Seattle: 206-763-6929
Tacoma: 253-267-0820