Guest Post by Redfin
---
Thirty-five percent of millennials who own a home or are likely to purchase a home in the next few years said the kitchen is the most important room when it comes to the house hunt, according to a nationwide survey of over 1,000 millennials conducted by meal kit delivery company HelloFresh. Forty-eight percent said they would be more encouraged to cook at home more often if they had an "updated/amazing kitchen."
But what makes a kitchen amazing? Teaming up with HelloFresh, we dove into Redfin data on homes for sale to see which kitchen trends are on the rise and which are falling like a bad soufflé.
We analyzed the listing descriptions of millions of homes that have been put up for sale over the past eight years and tracked how often specific kitchen terms are mentioned. Real estate agents are limited in the number of characters they can use to describe a home in the online listing, so an analysis of which words they chose provides insight into what they believe are key selling features.
When it comes to countertops, granite is a rock-solid choice, but quartz is a notable up-and-comer.So far this year, 3.7 percent of all listings included a mention of 'granite,' making it the most common keyword we analyzed. 'Marble' is also growing in popularity. In 2010, 0.4 percent of listings mentioned marble, compared to 0.7 percent of listings in 2018. While marble is mentioned more often than quartz, quartz is growing in popularity at a faster rate.
Browse Second Use's current selection of granite here.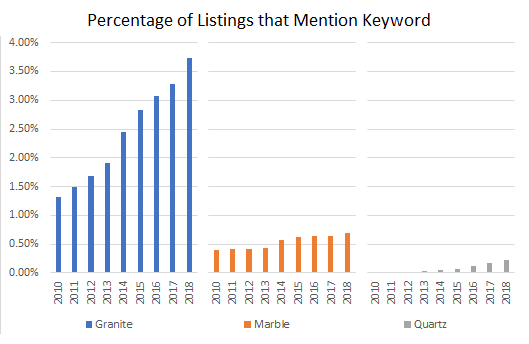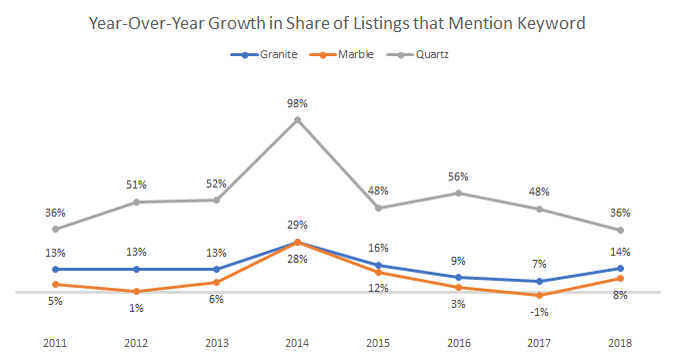 Stainless steel remains the standard for appliances. 'Stainless steel' was the second most-frequently mentioned keyword in our analysis, appearing in 2.4 percent of all listings thus far in 2018. This stalwart trend shows no sign of falling out of favor.
Browse Second Use's current selection of stainless steel appliances here.
Buyers have spoken, and they still love breakfast bars and islands. Appearing in 1.25 percent of all listings this year so far, breakfast bar was the third-most commonly mentioned keyword and continues to grow in use. In 2010, just 0.3 percent of listings mentioned the term.  Many buyers are keen on kitchen islands. In the HelloFresh survey, 64 percent of respondents said a "big island" is a must-have feature in their dream kitchen.
"While there are rare exceptions, most of my buyers are looking for an open concept floor plan with an island or peninsula that overlooks the living room. For many buyers, this is an absolute must-have," said Katie Scire, a Redfin agent in Washington, D.C.
Browse Second Use's selection of kitchen cabinets to create your dream island here.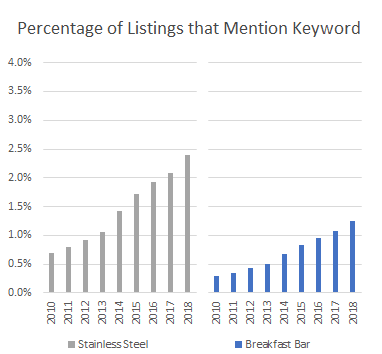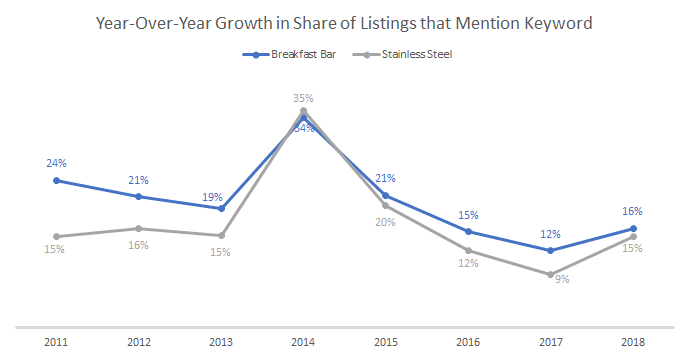 Maple cabinets are out. Farmhouse sinks and tile backsplashes are in. When it comes to kitchen decor choices, maple cabinets appear to be falling out of favor. What are sellers choosing to highlight instead? Hello, tile backsplashes and farmhouse sinks. In 2010, only 0.1 percent of listings mentioned a tile backsplash compared to 0.8% in 2018.
"Many buyers today are looking for that trendy look of the subway tile backsplash, big farmhouse sink and often white or gray cabinetry," said Katie. "I think we can thank Joanna Gaines for the farmhouse sink trend."
While listings that mention farmhouse sinks represent a tiny share of all listings, the growth rate in the use of the term has been over 40 percent for the past five years. Mentions of 'tile backsplash' have also been consistently growing since 2010.
Check out Second Use's current selection of kitchen sinks here.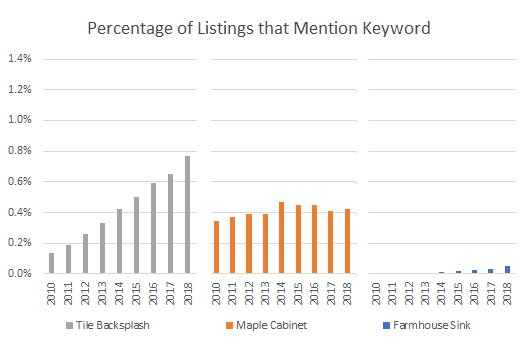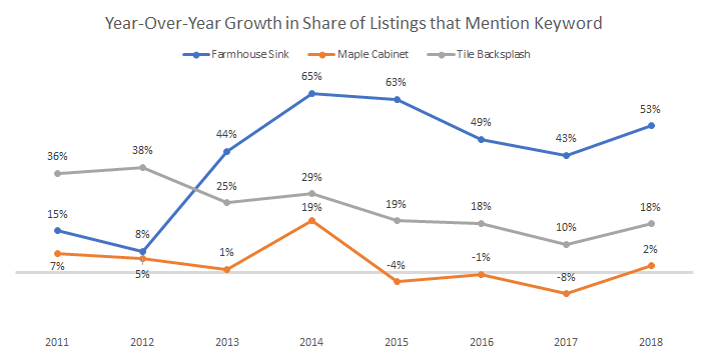 Buyers love the entertaining extras. Use of the keywords, 'outdoor kitchen,' 'wine fridge' and 'double oven' are rising in popularity.
"Over the past few years, I've been seeing a lot more kitchens with a dedicated beverage area, with a wine fridge below and an attractive place to display barware above. This feature really appeals to those buyers who enjoy entertaining," said Simone Poingsett, a Redfin agent in Los Angeles.
"Luxury homebuyers today expect a double oven and outdoor kitchen area, particularly in a climate like Los Angeles where you can entertain year round," said Simone. "While these features are considered standard in luxury homes, they are becoming more popular in mid-priced homes as well and can really set a home apart from others on the market."
Check out our selection of appliances to see if we have something to high grade your life.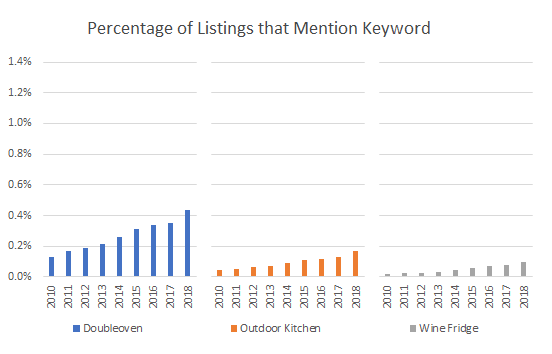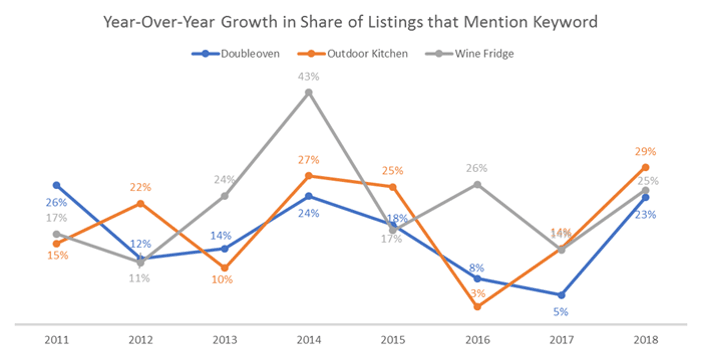 So, are you ready to start looking for your dream kitchen? Contact a Redfin agent today!
METHODOLOGY
Redfin analyzed the online descriptions for millions of homes that were listed on the market between 2010 and 2018. Redfin counted the number of listings that mention specific keywords related to the kitchen and calculated their popularity and the change in popularity year over year.
HelloFresh commissioned Zeno Group to conduct an online poll among US Millennial (age 23 – 40) Homeowners or Homebuyers from July 4-8, 2018, from more than 1,000 millennials nationwide who either own a house or apartment they live in as a primary residence or are very or somewhat likely to purchase a house or apartment within the next few years.