With reuse at the heart of what we do, we are always excited to discover other small businesses creating new solutions for incorporating reuse into your home, or in this case, garden. PlantShare has developed a versatile container garden system that allows you to cultivate plants in a variety of spaces or share your excess plants with the neighborhood. Not unlike Free Little Libraries, PlantShare Kiosks build community through encouraging neighbors to exchange excess plants.
The exchange is not limited to the physical Kiosk though, as each Kiosk has a QR code that links to a private community page as well as a plant matching service where neighbors can create public profiles for their plants and find new homes for them within their immediate community.
Not quite ready to start a Kiosk in your neighborhood? The Kiosk stand doubles as a convenient way to garden in even the most inconvenient of spaces. Their modular design makes them adaptable to any space in the ground or on a surface. Place one as a stand-alone on your patio, balcony or deck, or in the ground against a wall, corner or unsightly utility box. Your creativity is the limit!
They're easy to install, move and maintain; and they're pet friendly too as plants are out of reach. Herbs, succulents, moss, or dry landscapes thrive in a PlantShare Garden.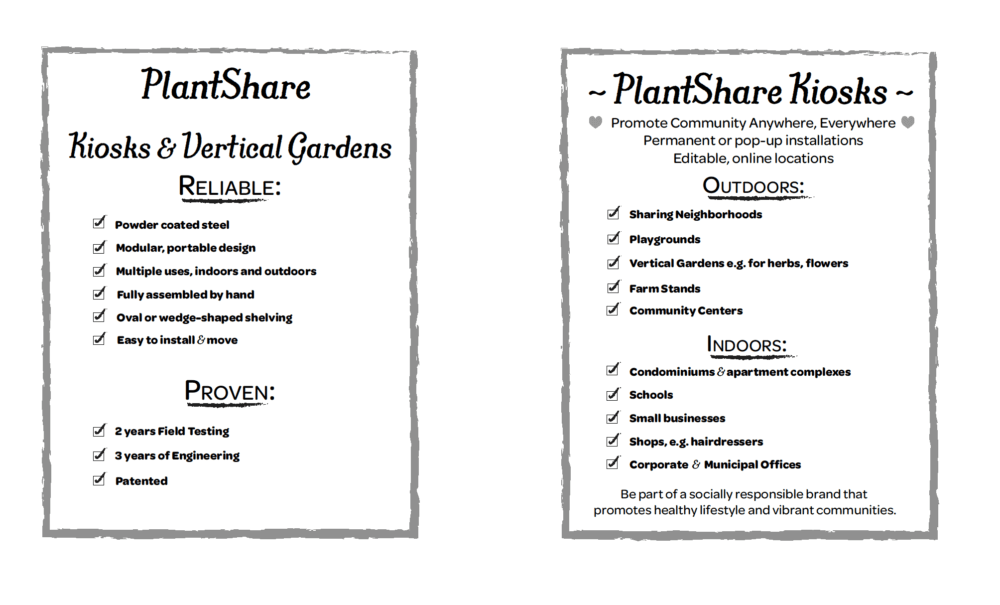 Join us this Saturday from 10-4 at our Handmade & Homegrown Market to find out more about PlantShare! We are grateful to them for their partial sponsorship of the event.
Find out more now at: www.plant-share.com
For questions, call: 1800-406-1889