We wanted to share with you this story we received from customer Logan Chinn. Do you have a fun story to share about items you purchased at Second Use? Please share with us by emailing [email protected]!
Logan's project and story:
Sometimes I find myself making the trip to Second Use with nothing particular in mind, just so I can walk the aisles in search of inspiration. This is the sort of trip that led to me constructing the perfect table I never really planned on building.
That day, walking through the indoor aisles of wooden building materials, I saw a small bundle of hardwood gym flooring – a mixture of what I believe to be white oak and hickory. Nearby I also saw a single piece of mahogany trim, as well as a random industrial looking metal table base. The materials were just begging to be turned into a side table, a mid-century modern meets industrial sort of piece, and since the total cost for all of them would be less than $20, I thought it was worth a shot.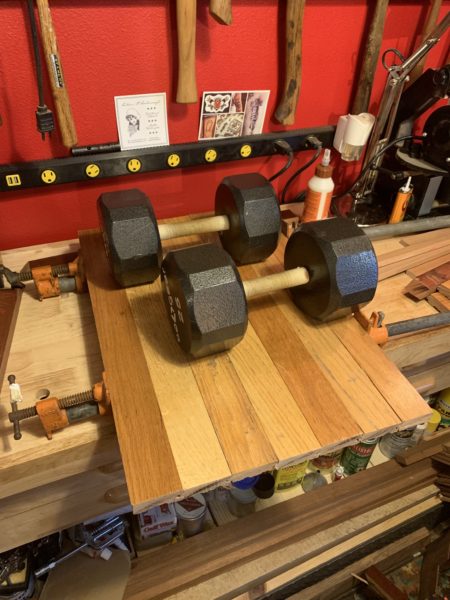 After some time with a chop saw, all the tongue-and-groove floor boards were cut to equal lengths (I just chose the shortest length to define size of the table, and assigned a width that matched the metal table base). I then applied a copious amount of wood glue to the grooves, and used some pipe clamps (also purchased at Second Use) and tie-down straps to apply inward pressure as the glue dried. I then attached some thin support beams to the bottom using some small pieces of trim and wood nails, both of which I found in the Second Use assorted wood scrap and parts bins.
Once the floor boards were firmly laminated together and cross-supported, I used an old a belt sander (also purchased from Second Use) to make sure the edges were all flush, as well as get rid of the old finishing and surface scratches.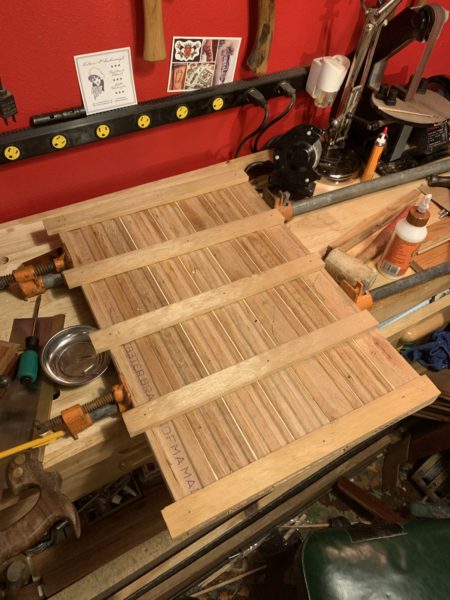 When the floor board portion of the table was finished, I then used a miter box (also purchased from Second Use) to hand saw the proper beveled angles into the mahogany trim so the corners would meet up just right. Then it was back to the pipe clamps for some more wood glue and clamp time. Eventually the table top was properly glued together, well-sanded, and begging for multiple coats of boiled linseed oil – my favorite wood finish.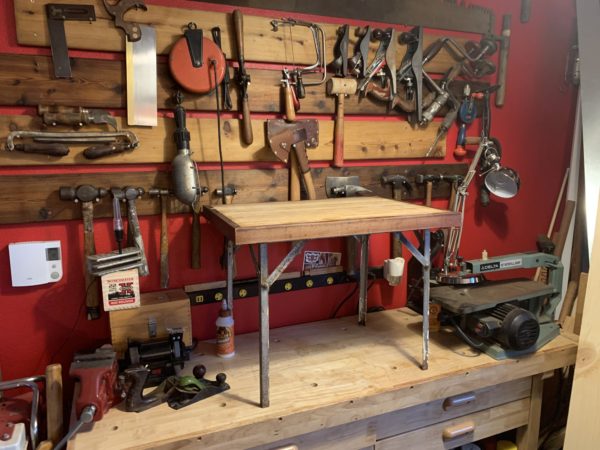 The table finally had that mid-century modern meets industrial look. However, as I was preparing to attach the table top to the base, I stumbled upon some even cooler vintage mahogany tapered legs on the Second Use website. I placed a hold on them over the phone, and was lucky enough to bring them home the next day. The match between the newly acquired mahogany legs and the trim was too good, so the metal base got booted and will be used for a different project. The legs were missing their feet however, but fortunately I was also able to find the exact set I needed in the parts drawers at Second Use, which were designated for just that! The only parts I had to source elsewhere were the table mounts that accepted the less common thread pattern of the vintage mahogany tapered legs, which were only a few bucks.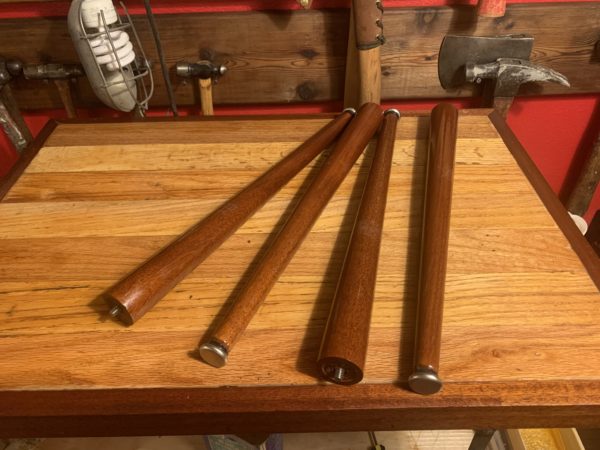 After it was all put together and many, many coats of boiled-linseed oil were applied and allowed to cure, I now have a small mid-century modern inspired side table built almost entirely with recycled parts sourced from Second Use Building Materials.  It's a piece I am proud of, and it was made possible by my favorite store in Seattle, Second Use!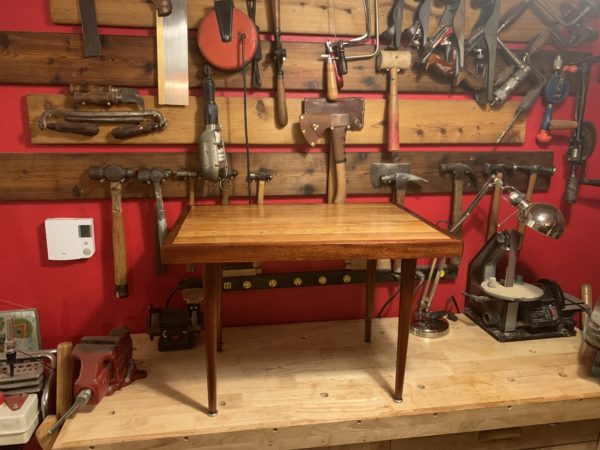 (All photos and story courtesy of Logan Chin.)
Thank you Logan, for the story and the vision on this table. What a beauty!